Our one-of-kind plush Jesus dolls, Dirty Dingy Daryl dolls, Rock-a-bye Baby dolls, family dolls, books and toys make special gifts for loved ones. Halo's unique toy creations are keepsakes crafted with care. Kid friendly and earth friendly, made with a little prayer from our family to yours. Handmade in America.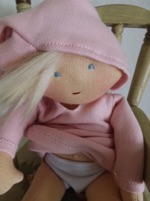 See all reviews by visiting our Halo Toys Etsy Shop:
https://www.etsy.com/shop/HaloToys?ref=seller-platform-mcnav#reviews
This website and our Halo Toys Etsy shop are the only sources authorized to distribute and sell our original copyrighted dolls, toys and gifts. Please contact us if you see our products being sold anywhere else. Thank you!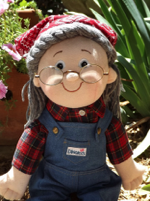 What a beautifully made doll! I got this for our daughter, to replace another Jesus doll that we lost in the move, and this is so much better. I can't wait to see her face on Christmas morning! Thanks for making this for her!! Will definitely be back for more dolls!
--Christa B., Franklin, TN
I received 2 dolls and they are both beautiful. Exactly what I asked for...I am very pleased with the quality of the dolls. Thank you so much! I am so excited to see my little ones face on Christmas morning! You are amazing!
--Amber S., Fayetteville, AR
Absolutely stunning dolls made to look like our daughters on their Christening day. They adore their dolls and everyone was very impressed with them. I know they will be treasured forever. When I opened the parcel I couldn't believe how much the dolls' outfits looked like our girls' dresses on the day, even down to the little pearls sticked onto their boleros. Such talent and amazing attention to detail. Thank you so much, Patricia. God bless!
--Sarah H., Lancaster, Durham, UK
Just rec'd the doll that I had made for my granddaughter and I couldn't be happier! Patricia cheerfully tweaked a few things to personalize the doll and the workmanship is excellent. I look forward to many years of happy memories with "Muddy Melissa".
--Elaine M., New Holland, PA
I'm absolutely impressed with the quality and craftsmanship of this lovely doll! I bought this for my son who adores babies and babydolls. I know this will be something we cherish for years to come.
--Melinda A., Ormond Beach, FL
This handmade doll is absolutely beautiful. Such care to detail! Ordered it for a special needs child to cuddle and he absolutely loves it. Wonderful exchange with the woman who made it. Am very pleased with the purchase.
--Andrea W., Brookfield, CT
Thanks to the both of you, Saturday morning before Thanksgiving week, I found an angel on my shoulder! He's great (& custom made, too)! Thank you again for your custom work!
--Russell C., Montrose, CA
Wow! These 2 dolls are the most lovely and beautiful dolls that I have ever bought. The handiwork is just too awesome!!! Just love to play and carry them everyday. Definitely worth the cost and the time waited for their arrival. And communication with the artist is enjoyable. Will absolutely buy from Ms Pactricia again!!!
--Yeo L., Singapore
I absolutely adore this doll. Such beautiful work and wonderful people too deal with. Will definitely buy again. Worth every penny. Thank you! Merry Christmas.
--Heather L., Brights Grove, Ontario, Canada
• Original Designs
• Quality Craftmanship
• Attention to Detail
• Customization Available
• Handmade in America